– and welcome to your Wellness bubble. I'm Melodie, founder of Inside Out Wellness Agency.
I used to be a wholesale manager for EMEA and USA and dreamt of sparing a few minutes to take care of myself during travelling and fashion weeks!
After experiencing chronic exhaustion, I decided to change my life and studied Naturopathy, Yoga and natural medicine. When I founded the Agency, my main goal was to spread as much wellness tools as I could! With a focus on tools that I wish I had before my body collapsed: easy, natural and non restrictive. 
Because « There's no need to feel pain to feel good! ».
Hope you envoy!
Xxxxx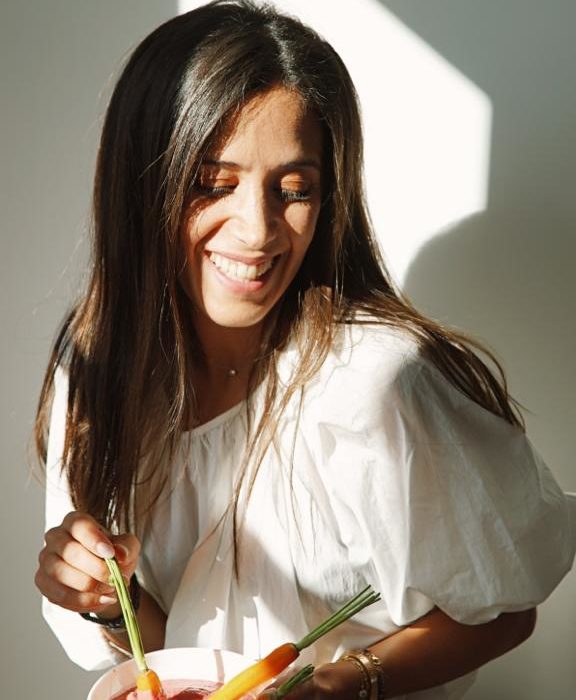 to help YOU go through fashion week
Committed, innovative brands with natural ingredients.
Destress in 5 minutes with my best-seller anti-stress breathing technique! Perfect for rush periods, days when nothing feels right, or simply to take a break.
Somush : French brand specialized in organic and fare trade coffee. Our goal is to make you discover the benefit of adaptogens plants in your coffee.
Energy boost : toning and energizing properties.
Vitality boost : boost the immune system and combat stress. 
Brain boost :  stimulates the nervous system, concentration and memory.
Rosegold : French cosmetic brand with a focus on growth serums made with natural ingredients.
Roselift : eye contour roll-on to help reduce the appearance of dark circles and puffiness under the eyes. Made with caffeine extract and hyaluronic acid.
Sunday Natural : German based brand who aims to develop products that we would be happy to buy ourselves, as natural as possible, of absolute purity and incomparable quality, and completely free of additives.
Calm Spray : harmonizing mouth spray for normal functioning of the nervous system, psyche and energy metabolism. Contains vitamins B1 and B6 (in the form of bioactive P5P) blended with a selection of aromatic plants and essential oils. More information and details on the website.
Hygée : French brand specialized in adaptogens. While our inspiration is ancestral, our products are above all based on science. Several months of development between our scientific team and our partner laboratory have resulted in a complementary combination of the most effective and healthiest high-quality ingredients.
Le Sommeil : a natural, effective solution to fall asleep quicker and improve sleep quality. Vegetal Melatonin is combined with Ashwagandha and Reishi, both selected for their relaxing and soothing properties on the nervous system. More information and details on the website.
For wholesale or other inquiries : melodie@m-insideout.com
Vous êtes une entreprise et vous souhaitez qu'on collabore ? Vous avez des questions sur les consultations ou les ateliers ?